Landscape & Hardscape Services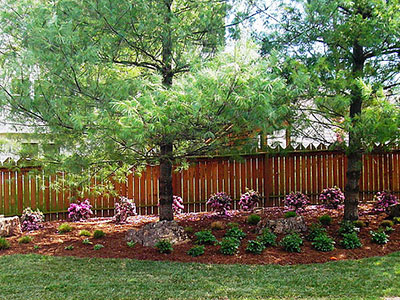 Terra-Scape Landscape Constructors is one of the most preferred landscaping companies in the region. We are recognized for our creative and high-quality landscapes that are both unique and functional. As a credible and experienced company, we go the extra mile to create outstanding experiences for our clients. We offer the perfect balance of reliability, high quality, and affordability, so you get value every time you hire us. Whether you want a new landscape built from the ground up or want to add a few hardscaping features, we can help. Our company helps with material selection, retaining wall construction, and paver installations to uplift your outdoor space's appeal. We offer these services to residential and commercial clients:
Design Services
Your landscape style and design greatly determine your property's exterior appearance. People are more likely to take notice of your home if it has well-designed and well-maintained landscaping. On the other hand, your home's exterior areas can seem untidy and unsightly with poorly planned landscaping. When you hire experts like us for your landscape design and planning requirements, you can rest assured that your outdoor spaces will be beautiful and manageable. Explore your landscape design concepts, and we'll bring them to realization. As part of our services, we'll assist you in choosing the right plants for your landscape so that it retains its springtime appearance even when the weather isn't ideal. Water and fire features enhance the aesthetics, usability, and resale value of your outdoor area with our professional designers' expertise. Our focused and expert approach ensures that you get practical, resilient, and easy-to-maintain outdoor spaces on your commercial or residential premises. Read More About Design Services >>
Landscaping Services
To transform your drab backyard into a lush, tropical haven, you'll need the help of seasoned landscaping professionals like us. Regardless of the existing state of your exterior spaces, we can certainly transform it into a spot you'll be proud of. Our crew has a wealth of knowledge and is well versed in working in various outdoor environments. Whether you have a compact backyard or a vast outdoor space, we can help design and install it. As a team, we have a wide range of ideas to choose from; we provide design and layout variations to serve several purposes in addition to aesthetic appeal. Our team is also flexible and can work within your schedule and budget. Retaining walls and other structures like decks, patios, and driveways are part of our scope of work, and we plan and install all these outdoor features. Our team is knowledgeable in different plantings and grasses, and we can help you select the best plants and shrubs for your landscape. This approach ensures your landscape's beauty and resilience. Read More About Landscaping Services >>
Pavers
There are several uses for pavers, including walkways, paths, and driveways, in addition to outdoor fireplace areas and garden steps. Whether it's a new landscape or an update, we can handle paver installation for you. We use our skills and expertise to ensure that our solutions fit perfectly into your landscape's outdoor spaces. There is a variety of paver goods on the market, but our professionals are here to use these products to create a one-of-a-kind aesthetic in your outdoor areas. They will help with material selection and distinct paver design options. All the information you need about natural stone, brick, or concrete paver units is available from our team of experts. If you're looking for an experienced and trustworthy local paving contractor, you are at the right place. Compared to clay or natural stone, concrete pavers are somewhat less inexpensive, but all these materials are resilient and long-lasting. Read More About Pavers >>
Retaining Walls
Most landscapes rely heavily on retaining walls. To support and stabilize a landscape, you need to install these walls in appropriate spots. Retaining walls differ from ordinary boundary walls in that they are meant to sustain the landscape or prevent soil erosion rather than serve only as a barrier. We build retaining walls with high-quality concrete masonry blocks, and you have a variety of options for surface texture and design. The team can design and build customized walls that meet your specific needs and support your landscape. We use retaining wall systems that are both visually attractive and structurally sound. Our installers can handle jobs of any size and scope, and we cater to residential and commercial clients. Whatever the reason you need a retaining wall in your landscape, we can help you find the ideal solution for your needs. Our team is systematic while assessing the landscape's condition before recommending the perfect retaining wall structures. Read More About Retaining Walls >>
Snow & Ice Removal
We provide reliable snow and ice removal services to match your specific demands during the winter season. We have been in this industry for a long time and have the resources and skills required to safely and efficiently do this job. Our customer base continues to grow year after year, and our clients know they can rely on us for their annual snow and ice removal needs. You cannot foresee when a major snowstorm will occur, and it doesn't take long to be snowed in. However, this is not something to be concerned about as long as you keep our number handy. Allow our staff to manage this troublesome task of clearing the snow from your property. We will also de-ice your paved areas, so your outdoors is safe for use. We make it a point to monitor current weather conditions to provide a prompt response when you need our services. If you choose our snow removal contract, we will arrive at your site and remove the snow as quickly as possible. Read More About Snow & Ice Removal >>
Rain Gardens
Creating a rain garden or many rain gardens in your backyard is an excellent and affordable way to lessen your impact on stormwater pollution. These features function very simply; they gather rainfall from your roads, sidewalks, and roof and direct it to a specific spot. Slowly soaking into the earth, the water filters out the impurities and prevents pure water from entering the sewage system. A rain garden is a great option to enhance water quality and provide unique options for plant life. It is possible to cope with excess stormwater runoff without burdening the existing stormwater infrastructure. It also eliminates mosquitoes by reducing the amount of water in your yard. Natural absorption and pollution elimination are replicated in a rain garden. These gardens can sometimes collect runoff with a 30-40% efficiency compared to a typical lawn. We have the knowledge and expertise to install rain gardens on properties of any size. Read More About Rain Gardens >>
Erosion Control
Erosion in landscapes is a primary concern on many properties. Most landscapers like us, who also grade the terrain, think about developing the landscape sustainably. We use modern erosion control methods in our work where these issues exist in the landscape. Our landscape designers primarily use two types of erosion management systems, and it is more common to employ them in tandem to prevent soil erosion. Installing plants, bushes, and trees is one of the most common methods. In addition, we also install retaining walls and landscape fabric to help prevent mudslides. The experts plan these features and installations purposefully so that your landscape becomes more stable and usable. In addition to implementing erosion control methods in new landscapes, we also handle similar projects in existing yards and gardens. Our team collaborates with you to understand your objectives before coming up with plans and ideas that work best for your landscape. Read More About Erosion Control >>
Landscape Maintenance
Choosing appropriate elements and installations is a crucial part of designing stunning outdoor areas. In addition, you need to set them up properly. Maintaining the features in the outdoor spaces becomes essential after all these components are in place. Clients can rely on us to deliver high-quality landscape maintenance services. You will discover that the customized solutions we provide encompass all the critical sections and features of your home's outdoor spaces while also being very cost-effective. As professional landscape contractors, we perform this work since landscaping needs regular upkeep. Our company can design and build stunning landscapes, and we offer reliable and cost-effective landscape care solutions to our residential and commercial clients. We have the knowledge and skills to maintain all the living and masonry elements on your property. With our expert attention, you will find that your outdoor spaces look spruced up and appealing right around the year. Read More About Landscape Maintenance >>
Our company has proven expertise in all aspects of landscape design, planning, installation, and maintenance. As mentioned earlier, we have been in this industry for over a decade and have the skills and expertise to provide customized solutions. We use the best materials and techniques, so your outdoor areas are distinctive and easy to maintain. In addition to functionality, we also focus on providing cost-effective, sustainable solutions. For more details about our services and getting your project started, please call Terra-Scape Landscape Constructors at this number- 636-724-5680. You can also write to us via this Online Form, and we will contact you soon to get more information about your requirements.
Our service coverage includes the following Cities, Towns and nearby areas in the State of Missouri, MO: